Radioactive Seed Localization
The Breast Center is excited to offer Radioactive Seed Localization to our patients. It may sound confusing, so we're here to explain this new advanced procedure. Radioactive seed localization or RSL is a new technology that allows our specialists to precisely target small breast cancers for surgical removal.
This innovative procedure is a great improvement from the previous standard procedure, wire localization. Wire localization can be performed using mammographic or ultrasound guidance. Once the tumor is identified, the overlying skin and breast tissue is numbed with a local anesthetic. A radiologist then marks the lesion by inserting a small guidewire into the tumor. After placement, a portion of the wire remains exposed until surgery is performed later the same day. Although wire localization is relatively painless, the exposed wire may become uncomfortable or possibly displaced, which can make the tumor more difficult for the surgeon to find.
Radioactive Seed Localization is a more convenient procedure. Similar to wire localization, RSL can be performed using mammography or ultrasound to locate the cancer. Once the tumor is located, a tiny low-dose radioactive seed is placed at the tumor site. The seed is about the size of a pencil lead and patients don't feel it once it has been inserted. The seed can be inserted up to five days before surgery, making scheduling easier for both the patient and the surgeon. After the seed is inserted, the patient may resume normal activities without fear of seed displacement until the lumpectomy is performed.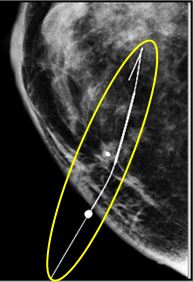 Wire Localization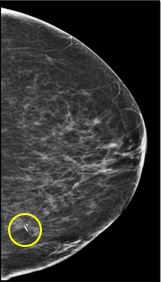 Radioactive Seed Localization
The seed clearly marks the location of the tumor and is less likely to shift than the wire. The ability of the seed to be located within the tumor makes the cancerous breast tissue easier for the surgeon to identify and remove along with the seed. Most patients are able to return home the same day as surgery.
After the seed and tumor are removed, the tissue is evaluated by a radiologist to determine if the seed and biopsy clip have been removed. RSL increases the chance of having all of the cancerous tissue removed during the initial operation, reducing the chance of a second surgery. The radiation exposure in RSL is very low so the procedure is completely safe for most breast cancer patients.
Radioactive Seed Localization is a significant advancement in breast cancer treatment. However, it's still very important for women to have regular screening mammograms as a way to catch breast cancer in its earliest stages. If you have questions about this new procedure, please feel free to give one of our breast imaging specialists a call at (336) 271-4999 or contact us.