Mobile Mammography Unit Improves Convenience and Access of Breast Cancer Screening in NC
It's easy (and common) for women to delay preventive health screenings for themselves. After all, who has time when you're making appointments for kids, taking parents to the doctor and trying not to miss any more work? The new Mobile Mammography joint effort by DRI and Cone Health is bringing breast cancer screening equipment to women in North Carolina—where and when it's most convenient for them.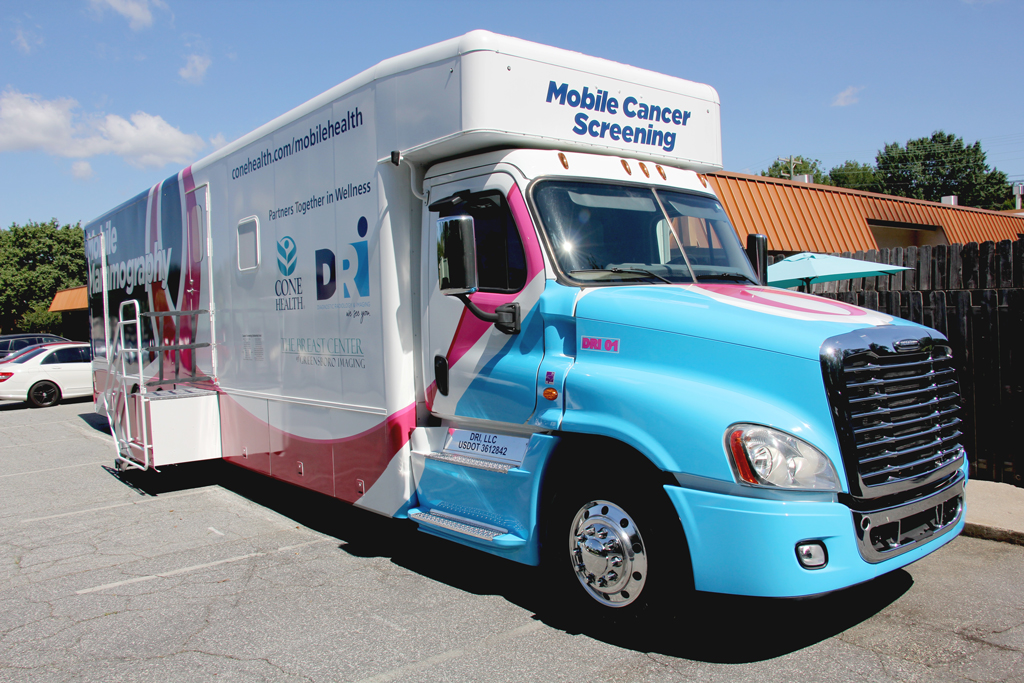 What Is Mobile Mammography?
Mobile Mammography is breast imaging on wheels. The DRI Mobile Mammography unit is a 45-foot, wheelchair-accessible, air-conditioned motor coach that is fully equipped to take high quality images of the breast. There are private changing rooms, state-of-the-art mammography machines and board-certified radiologists on board. The care you receive in the mobile unit should be very similar to the experience you have in one of our traditional imaging facilities. 
Who Can Get a Mobile Mammogram?
The DRI Mobile Mammography unit is currently serving women in Guilford, Rockingham and Alamance counties. There are no income requirements and physician referrals are not required. Just like in an imaging facility, most insurance providers cover annual screening mammograms at 100%.
Eligible women must be 35+ and:
•    Have not received a mammogram in the last 12 months
•    Are not pregnant or breastfeeding
•    Are not currently experiencing breast concerns
Diagnostic imaging should be performed at one of our regular locations. If you have concerns about your breast health or have felt a lump, contact your doctor immediately.
Available for Corporate and Community Events
Mobile mammography is an opportunity for workplaces and communities to promote women's preventive healthcare. Our Mobile Mammography unit can be reserved for corporate events, health fairs, breast cancer awareness events and other local activities. Bringing mammography screening directly to women's workplaces and near their homes makes it considerably easier for them to devote time to their own health. 
For more information about Mobile Mammography or to request a visit from our mobile unit, contact us at 336.433.5000.