Man Up Men: 7 Tips to Live Healthy
Almost 30% of men say they "wait as long as possible" to seek medical care when they're ill or in pain.1 Too many dismiss the need for physicals and preventive screenings and may put their own health in jeopardy in the process. Thankfully, attitudes are changing and men are becoming more proactive with their own health.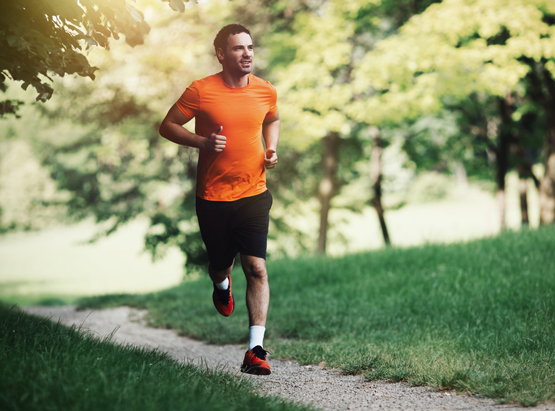 Health Tips for Men:
1. Find a good primary care physician.
While Urgent Care may be great for a quick fix, it can't track your medical history. Building a relationship with a primary care doctor is key to monitoring your health over time. 
2. Don't wait for something to be wrong to go see that doctor.
All men should have yearly physicals or wellness exams. This gives your doctor a chance to evaluate possible problem areas like blood pressure, cholesterol and glucose.
3. Make prostate-friendly food choices.
According to The Prostate Cancer Foundation, incorporating more healthy fats, antioxidants and anti-inflammatory foods into your diet may help reduce the likelihood of prostate cancer. Consider fish with omega-3 fatty acids, antioxidant-rich berries, cooked tomatoes, broccoli and green tea.
4. Sit less.
Only one in five adults and teens exercise enough to stay in good health.2 The American Heart Association recommends at least 150 minutes of heart-pumping physical activity each week. Walk with a friend. Play with the kids. Just get up and move.
5. Be conscious of your colon health.
The majority of colon cancer cases can be prevented. Basic healthy habits like staying at a healthy weight, limiting alcohol consumption, not smoking and taking a multivitamin that contains calcium, vitamin D and folate can all lower your risk of colon cancer.
6. Don't skip preventive care.
Go to the dentist. Get your eyes checked. Follow your doctor's recommendations for blood pressure, cholesterol, diabetes, prostate and osteoporosis testing. And make time for preventive health screenings. Regularly scheduling Virtual Colonoscopies and Lung Cancer CT (for smokers) can help men catch issues when they're easiest to treat.
7. Take care of your mental health.
Men are four times more likely to commit suicide than women.3 Don't wait to talk with your doctor and family if you are experiencing signs of depression or other mental health issues.
Have questions about health issues or preventive health screenings for men? Contact DRI Greensboro Imaging at 336.433.5000. We'll be happy to discuss our imaging options or direct you to a specialist who can address your concerns.
1health.harvard.edu
2heart.org
3healthywomen.org