Healthy Tips for Social Distancing in the Triad
We all want to do our part to keep our community and family members healthy, but social distancing doesn't have to mean staying in our homes and isolating ourselves all the time. In fact, finding creative, low-risk ways to stay active, get outdoors and destress offers health benefits that can improve your mood and help reduce the risk of many serious health conditions.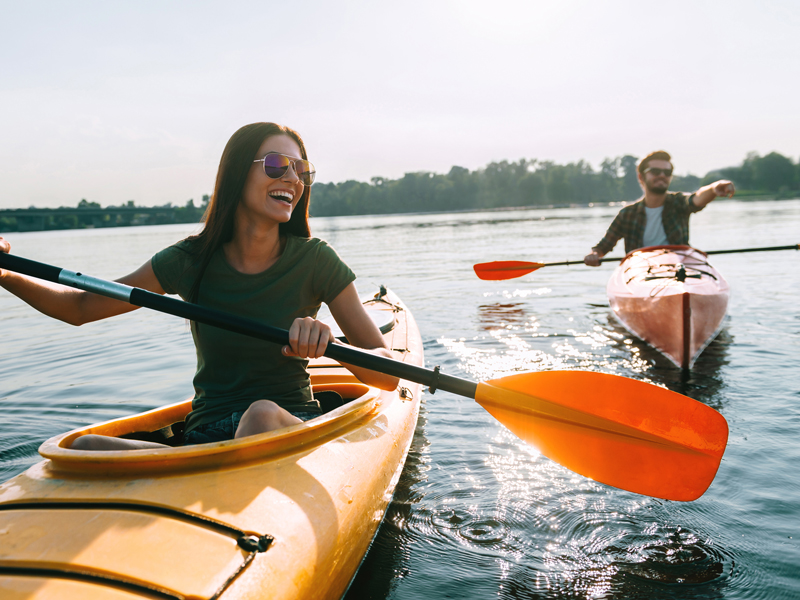 Keep in mind, most activities are currently safest when performed alone or with members of your household. Avoiding crowds, wearing a face covering when possible, using proper hygiene and maintaining distance between yourself and others are all important to minimize the spread of COVID-19.
Exploring the Outdoors
Greensboro has more than 90 miles of trails and greenways for walking, hiking, biking, jogging and skating. We also have access to a number of parks and recreation areas in the Piedmont Triad where people can enjoy activities like fishing, kayaking and camping while practicing social distancing outside. It's a good idea to contact facilities ahead of time to find out what is available and when the busiest times are.
Social Distanced Sports
Missing sports? Consider picking up a tennis racket or golf club. Many of our public parks have tennis courts and there are some beautiful golf courses right here in the Triad. Outdoor sports that are naturally social distanced and do not require sharing equipment can be a great opportunity to get some fresh air and physical activity while staying at least six feet apart.
Healthy Workout Activities
If you're used to working out—or you've spent too much time recently on the couch—there are ways to make fitness a priority. Many gyms and fitness groups are offering free streaming services for group classes or at-home workouts. Yardwork can get your heart pumping. Weights can be replaced with household items like laundry detergent. You can even plan a yoga session with friends via video chat.
Exercising Your Mind
It's not just your body that needs activity. Reading books or listening to podcasts can stimulate your mind and offer a temporary escape from the stresses of work or life. This is also a unique opportunity for Triad families to take part in virtual tours and learning experiences provided by museums, zoos, national parks and other venues across the world.
Support for Others
Research has shown that helping others can make us happier and improve general wellbeing. Finding ways to support members of our local community who may be sick, caring for others, in a nursing home, unemployed or dealing with other difficult circumstances is an opportunity to not only help them, but also help yourself.
Seeking Healthcare
It may be tempting to avoid medical facilities during this time. But please do not skip preventive care or ignore signs of a serious medical issue like a heart attack, stroke or cancer. Healthcare facilities like DRI Greensboro Imaging are taking extreme precautions to keep patients and employees safe. If you have a medical concern or are behind on a preventive screening, contact us at 336.433.5000 to discuss your options.
Please note that risk can vary between different people based on their individual health. Those with higher risk for COVID-19 should keep their elevated risk in mind when considering which activities are safe. Additionally, it is important to follow local laws and guidance about protecting yourself and your community from COVID-19.