Excellence in Patient Care
As we look forward to a healthy and happy year ahead, we want to take a moment to thank you for allowing us to serve your family's imaging needs. Without your trust in us, our work wouldn't be possible. DRI Greensboro Imaging made a commitment to excellent patient care and promised to meet the community's healthcare needs with knowledgeable doctors and state-of-the-art technology. That's still our goal today as we strive to exceed standards for compassionate, comprehensive and cutting-edge care for families in the Triad.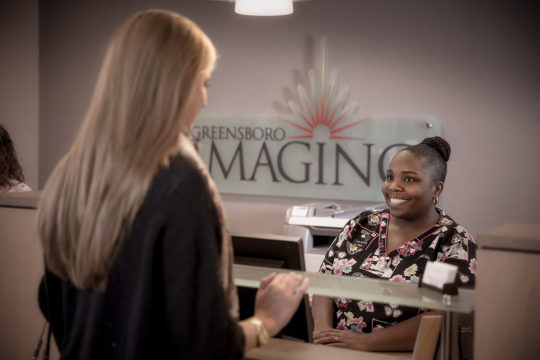 Our board-certified local specialists provide nationally recognized expertise to every patient. To make sure you always receive the highest level of care, our team is required to participate in annual medical training to stay up-to-date on the latest medical trends. We are dedicated to providing top-of-the-line diagnostic services and are always looking for ways to offer less invasive, more comfortable procedures with the most accurate diagnoses. But most importantly to us, our staff makes a point to treat patients like the neighbors and friends that they are. Our patients are people. Not numbers on a chart. So you'll always be greeted with a warm smile and genuine concern for your wellbeing. "I feel fortunate that I was led there and was given the very best of care. Their commitment and dedication touched me," said a DRI Greensboro Imaging patient.
Recently, Bob White, our Chief Operating Officer, spoke at the Canopy Partners Imaging Summit about DRI's most recent efforts to improve patient care through information automation. "We are always looking for ways to make the process better for our patients, and by switching to an automated registration system, we can treat our patients easier and faster. Imaging procedures can be stressful for patients, so making the process go more quickly can really help ease their concerns. There is nothing more important to us than improving our patient experiences," said Bob. Our goal for the year was to reach a patient experience score of 96.4, and thanks to our wonderful staff members who are committed to making excellent patient care a top priority, we met our goal and ended the year at 96.5.
DRI is the area's leader in outpatient diagnostic imaging. Whether you need an ultrasound, MRI, C/node/147, mammogram or other imaging procedure, our radiologists are here to provide the attention you deserve and the care you need. We also offer a dedicated B/node/108 that has been nationally recognized by the American College of Radiology. If you're interested in learning more about DRI Greensboro Imaging or want to schedule an appointment, please call us at (336) 433-5000.