Breast Cancer Care in the Triad
As Breast Cancer Awareness Month comes to a close, we would like to thank those who made Pink in the Park, our annual kickoff event, such a success. October is a special time to honor, remember and celebrate the lives of those who have been touched by the disease. It is also a time to spread awareness about the importance of early detection and the resources available in our community. At The Breast Center of Greensboro Imaging, we are proud to offer our patients state-of-the-art technology paired with excellent patient care to best serve women's breast and other health care needs. With our patients in mind, we would like to share some ways to improve women's health to help in the fight against breast cancer.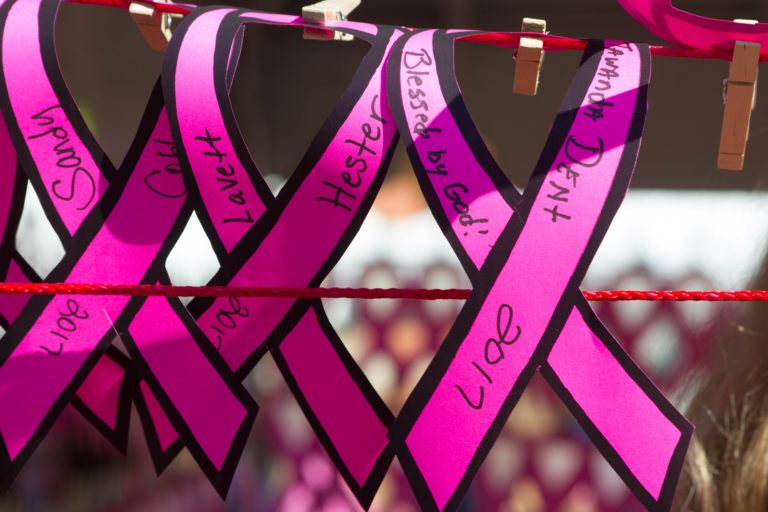 Can You Prevent Breast Cancer?
According to the American Cancer Society, breast cancer is the most common cancer females may encounter in their lifetime. While some risk factors—like family history and gender—cannot be prevented, there are certain lifestyle changes you can make to help reduce your chance of developing breast cancer:
• Reduce smoking
• Maintain a healthy diet
• Exercise regularly
• Limit alcohol intake
Risk Factors for Breast Cancer
Family history is one of the leading risk factors associated with breast cancer. The American Cancer Society estimates that between 5% and 10% of cases are a direct result of gene defects passed on from a mother or father. A woman's risk for breast cancer is also significantly higher if she has a first-degree relative (mother, sister, daughter or male relative) who has had breast cancer.
Dense breast tissue can also increase your risk of breast cancer. According to the American Cancer Society, women with dense breasts have a risk of breast cancer that is about 1.5 to 2 times that of women with average breast density. About 40% of women have dense breast tissue, and the only way to determine the density of your breast is with a mammogram. Unfortunately, dense breast tissue can make cancers more difficult to see on mammograms. At Greensboro Imaging, we will notify you by letter if you have dense breast tissue, and encourage women who have it to take advantage of our 3D mammography.
Early Detection Saves Lives
With a diagnosis rate of one in eight women, it is also important to have regular screenings. The risk of diagnosis increases with age, so we recommend all women over the age of 40 have annual mammograms. Early detection saves lives and catching developing cancers early is key to a more successful course of treatment. procedures, recommendations and what to expect during detection and treatment.
3D Mammography
We are proud to offer our patients 3D mammograms (breast tomosynthesis). This type of diagnostic screening is the newest technology in breast cancer detection and is a revolutionary tool for our doctors. 3D mammography works with traditional 2D mammography to take a variety of pictures from multiple angles. These images are then used to create a 3D view of the breast tissue, offering the highest visibility for our radiologists. This allows us to go above and beyond to find cancers that may have gone previously undetected and reduces the chance your doctor will call you back for additional screenings unnecessarily.
Dr. Drew Davis recently explained the differences between 2D and 3D mammograms during an interview at The Breast Center of Greensboro Imaging.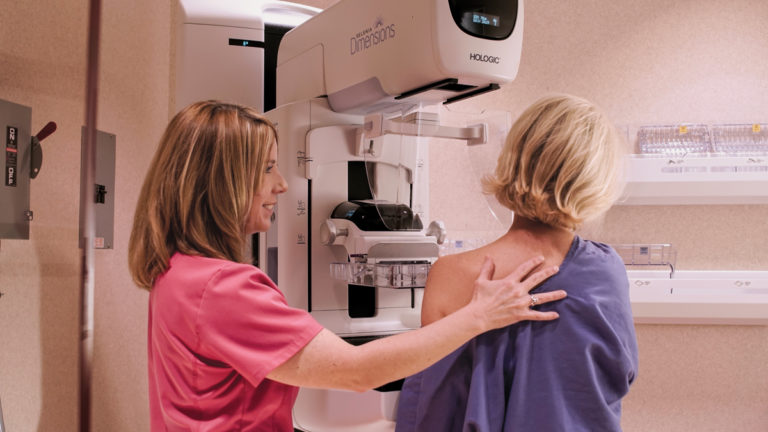 "I really like the option of getting a 3D mammogram. The person who did my mammogram worked efficiently and got it done very quickly. I am satisfied with the speed and the efficiency of the appointment. I was impressed with your streamlined process and appreciate very much that you have employees who are trained and capable at what they are doing."
– Katja S Brown
To find out more about our services or to schedule a mammogram, please call The Breast Center of Greensboro Imaging at (336) 271-4999.