3T MRI: Clearer, Faster, Better
Magnetic Resonance Imaging (MRI) has been a trusted, radiation-free way to capture images of the body for years, but what if we had the ability to take clearer images in less time? With 3T MRI technology, we do. At Greensboro Imaging, we believe Triad residents should have access to the most advanced MRI testing available, so we now offer 3T MRI.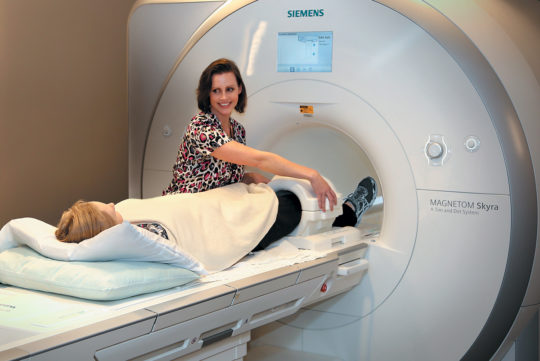 Our state-of-the-art 3 Tesla (3T) MRI machine uses the strongest magnet available to provide sharper images than ever before, making it ideal for patients who are experiencing neurological or other issues that require highly detailed pictures. This new technology makes capturing areas of the body that were previously difficult to capture, such as the brain or small joints, easy to photograph. It also works fast, cutting down the procedure time by almost half for organs that don't require extreme detail. So we can spend our time making sure patients get the care they need. Faster screening is especially helpful for patients who are experiencing back, knee or other issues that cause severe pain.
As described by Dr. Sriyesh Krishnan of Greensboro Imaging, "It's kind of like the first time you saw an HD TV. The picture with 3 Tesla is spectacular. But not every procedure requires that level of detail, so we're able to tailor the test for the patient. Based on what body part is being imaged, we decide whether they need a faster test or a very detailed test with the smallest pixels possible."
Similar to traditional MRI, 3T MRI uses magnets and radio waves to capture images of soft tissue, bone, fat and muscles. 3T MRI is most commonly used for imaging areas like the brain, spine, breast, pelvis, prostate gland and joints. However, every patient is unique, and this new technology is not right for everyone. Traditional MRI is generally more suitable for patients who are pregnant or have metal hardware implants.
Nervous about being inside the MRI machine? Not to worry. Our Wide Bore machine is less confining with a wider opening and a shorter tube length to increase patient comfort and reduce anxiety for those who are claustrophobic, obese, elderly, in significant pain or experiencing limited mobility.
At Greensboro Imaging, our priority is patient care, so we strive for the most accurate and comfortable imaging experience. 3T MRI is just one of the ways we use new technology to better serve our community. When it's time to have an MRI procedure, remember, for crisp images, there's a clear local choice.
To find out if 3T MRI is right for you, please contact our specialists.